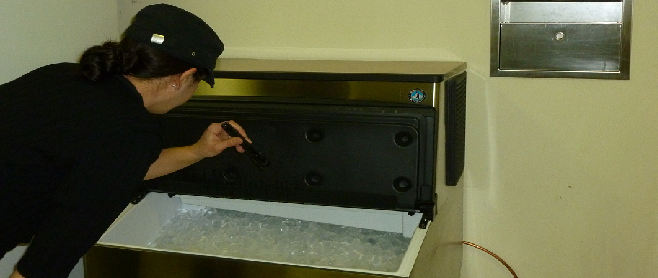 There are over 1,200 permitted food establishments in Kanawha County. The WV Food Establishment Rule, effective July 1, 2008, governs retail food establishments such as restaurants, bars, grocery stores, schools, hospitals, day cares, temporary food stands, etc. The rule incorporates, by reference, the majority of the U.S. Food and Drug Administration's (FDA) 2005 Model Food Code.
Environmental Health services staff conducts risk based inspections of all food establishments yearly and responds to complaints with immediate investigations. The purpose of the inspections is to assure that the food is being handled properly from storage to preparation and serving. Inspectors observe all workers' food handling practices; assure equipment is working properly, take food temperatures, inspect all refrigeration and storage areas, assure water temperatures, and correct level and uses of sanitizers. Any violations that are noted are discussed with the Person in Charge and a plan of action is put into place to correct critical violations immediately and to correct non-critical violations as soon as possible. You should review the Food Training guide to get further information.
Environmental Health is responsible for promoting and protecting the public's health by ensuring that the county's food supply is safe and sanitary. The Sanitarian staff is trained on the 2005 Model Food Code and is well versed on the inspection process as well as educating food facility management and the consumer. The KCHD food safety program's number one goal is to help protect the public from food borne illness.
All food establishments must obtain and complete the Plan Review Packet prior to being issued a food permit. To download a printable copy these documents please click Plan Review Packet.
Sponsors of bake sales are required to register with the KCHD. Please complete the Bake Sale Form and return it to the KCHD prior to the bake sale.
Food Safety Training
Kanawha-Charleston County Health Department has partnered with StateFoodSafety.com to provide Food Handler and Food Manager Training.
Food Handler Training: If you handle, prepare, serve, sell, or give away food for human consumption, even if you bus tables or wash dishes, you are a food worker and need this training within 30 days of starting work.  Click on the custom portal below to select either a one-year ($20) or a 2-year statewide card ($30). This training is interactive, engaging, and fun, and it is available in English, Spanish, Korean, Vietnamese, Tagalog, Chinese, Serbo-Croatian, and ASL.  The training will take you about 75-minutes to complete with a 30-question assessment at the end. You have 2 test attempts to achieve a 70% or above. Once you successfully complete your training, print your card.
Food Manager Training: There must be one Certified Food Protection Manager per shift at each establishment. Click on the custom portal below to purchase your Food Manager Training as well as a nationally accredited CFPM Exam. The training is about 7-8 hours and includes avatars, high-quality illustrations and audio, and interactivities to help you stay engaged and learn correct food safety principles at a managerial level. There are three selections for the proctored exam from which you can chose. You can choose to take the proctored exam at home, at an outlying site, or at the Kanawha-Charleston Health Department. You will pay a proctor fee of $46.00 to take at home and $50.00 to take at an outlying facility. However, if you chose to take the exam at our health department, the fee is waived. Depending on what selection you chose from depends on the bundle fee for the course and exam. It can range from $130 to $180.
It is available in English or Spanish. The training also provides a 90-question practice assessment to help you prepare for your CFPM Exam. You should have received an email from Prometric to schedule your CFPM exam. Once you feel prepared and have scheduled your exam, go and take your exam. And good luck!
Industry Solutions: StateFoodSafety.com offers high-quality online food safety training services for industry accounts–which includes discounts, LMS training integration, custom portal with company branding options, and more. If you are interested in partnering with StateFoodSafety.com, please email accounts@statefoodsafety.com or call 801-494-1416.
Group Purchases: If you would like to purchase more than one training, select the training you want to purchase and go to the "Checkout" page. Change the quantity and check out. You will receive a list of voucher numbers in your email, which you can distribute to your employees.
Already have a coupon or voucher code? Wonderful! Click on the custom portal below and select the training and language you want and then "Checkout."  Toward the bottom of the Checkout page, you'll find question marks that ask for your coupon code or voucher code. Copy and paste your code in the correct blank box and click "Apply."  Then continue the checkout process.
KCHD offers online Food Safety Classes to food service employees through http://kchdwv.statefoodsafety.com.
Temporary Food Guidelines
Temporary Food Service Guidelines Booklet
Each event should have an Event Coordinator
Where there are many businesses and or volunteers participating in the event, the event coordinator must ensure that all use safe food practices.
All event coordinators should complete the Food Vendors List with the names and contacts of food vendors participating in the event. Provide a copy to KCHD and retain a copy for your records. Completed vendor applications with the appropriate fee should be submitted to KCHD at least one week prior to the event.
NOTE: Event organizer should submit applications for approval by KCHD from their participants: profit vendors with the permit fee; non-profit charitable, educational or religious vendors will not be charged a permit fee with completed §16-6-3 form. KCHD must receive the applications at least one week in advance of the event.
Temporary Food Event Coordinator Packet
Emergency Procedures for Retail Food Establishments
In the event disaster strikes do you know what your organization's emergency procedures are? A food establishment manager (or the Person-in-charge) is responsible for conducting both initial and ongoing assessments to ensure consistent compliance with food safety requirements. The following Retail Food Emergency Flip Chart document is designed to provide guidance in the development of emergency procedures for retail food establishments. Individual establishments can use this resource to develop procedures that meet the needs of their specific organization.
Retail Food Emergency Flip Chart
Resources
If you have any complaints you would like us to investigate. please email us environmental@kchdwv.org with complete Complaint address or contact information.
You can also call us 304-348-8050.